Baikonur Cosmodrome Space Launches - Manned and Cargo Mission Observation Tours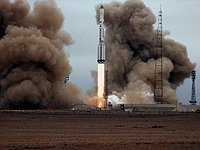 Amazing, thrilling and totally unique experience. Watch the launch of a space rocket from the world largest Russian Cosmodrome, be among the privileged to see the cosmonauts, learn the history of space exploration from the place where it all started over 50 years ago.
Go Russia offers you a chance of a lifetime to enjoy manned and cargo launches from
Baikonur Cosmodrome
in Kazakhstan. The space rocket will be only over a mile away from the observation platform.
Join us for the next space missions to witness
Soyuz and Progress rocket
launches to the International Space Station. Book now as availability is limited.
NOTE:
given all the complexity involved in spacecraft launches, all planned dates are subject to change. Normally the final launch date is reconfirmed about 3-4 weeks before the planned date, however the date may be moved by a week or so. We recommend all our customers to have some flexibility in their travel plans, at least 10 days prior and after the tour.
.
TOUR PRICE:
Manned Mission - £3,295 per person incl. visa
Tour details
Cargo Mission - £3,295 per person incl. visa
Tour details
Flight to Moscow from London – from £250 return.
Price inclusions
ENTRY CLEARANCE AND VISA:
Entry clearance.
Please note due to security reasons an entry clearance is required to visit the cosmodrome and official turnaround is minimum 45 days. We advise all our customers to book tours to Baikonur well in advance to allow sufficient time to get all required permits. You will be asked to provide your personal details (name, surname, data of birth, nationality, passport details) to obtain entry clearance.
Arrange security clearance
.
Visa information.
Although Baikonur is located in Kazakhstan it is administered by the Russian Federation and you will require a double – entry Russian visa to join one of our space launch tours. The cost of the visa is included in the price of your tour. So you will just need to fill in an online application and send it together with your passport and a photo to our address. We will take care of the visa processing and return your documents within two weeks (standard processing). Urgent processing – 2 working days is also available, additional surcharges apply.
If you are not resident in the UK, we will issue and email you all necessary paperwork (invitation and tourist voucher) for you to obtain the visa in your local Russian consulate. You will need to pay a valid visa fee at the time of your application. In this case we will deduct the consular fee from the cost of your tour.
We hold Air Travel Organisers Licence (ATOL) number 6801 issued and fully bonded with the Civil Aviation Authority (CAA) so the air holidays and flights offered on this web site are ATOL protected.
To book the tour please
email
or call
+44 (0) 20 33 55 22 45