About SkyandSpaceTravel.com – adventure tours and fighter flights in Russia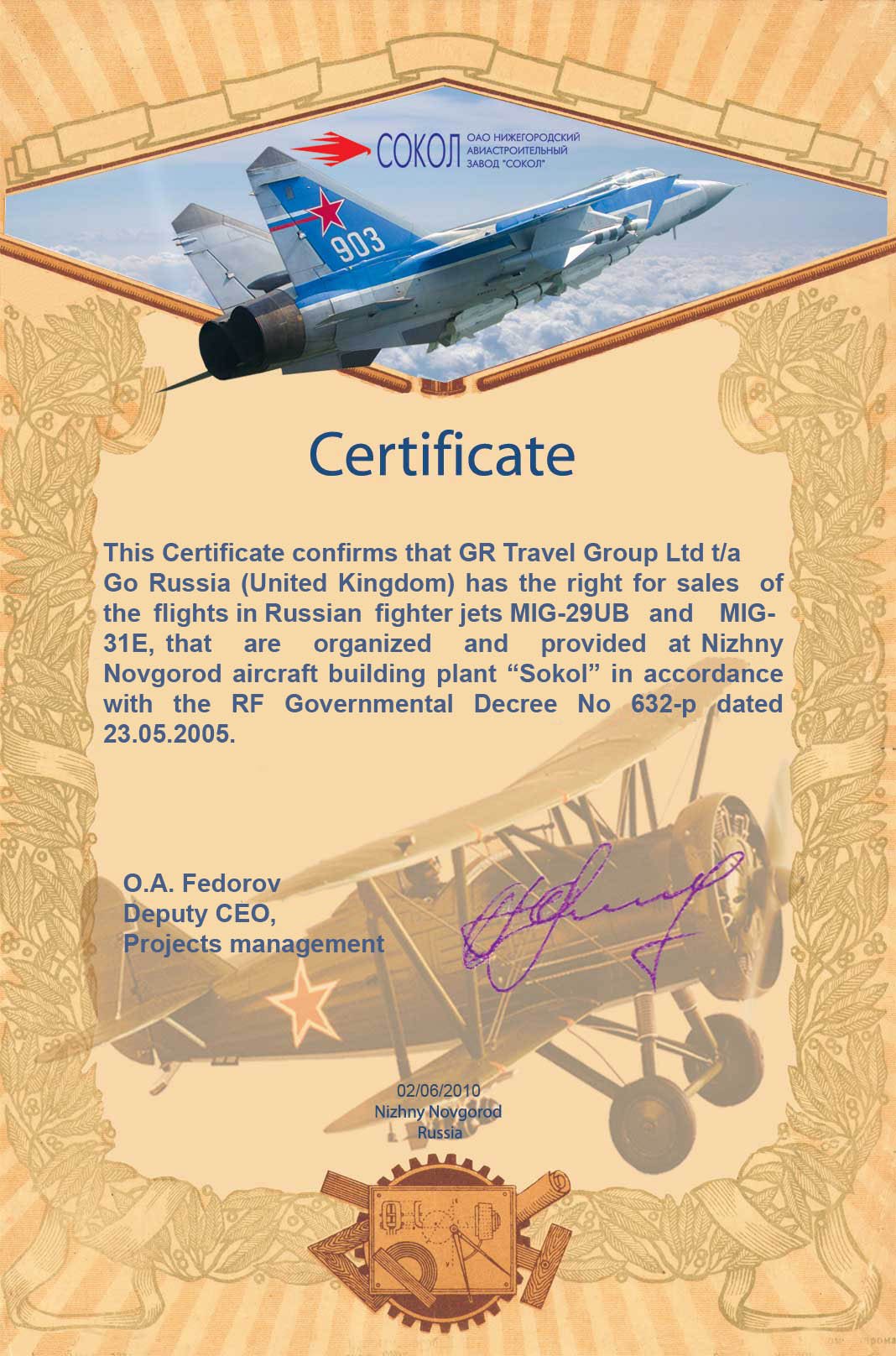 OUR COMPANY
SkyandSpaceTravel.com is a separate division of GR Travel Group Limited, a leading UK-based specialist tour operator known to many as a provider of adventure and discovery holidays in Russia.

After the closure in 2005 of the Zhukovsky Airbase near Moscow, which was widely used for MiG flights (we were also agents for those tours), the Sokol Aircraft Building Plant in Nizhny Novgorod, 400 km from Moscow became the only place in the world where you can fly a real MiG fighter at supersonic speeds. One of our directors and several employees have personally visited the military plant at Nizhny Novgorod, talked to the pilots, mechanics and operators, and taken part in the process of jet flight preparation. As a result, we know personally how the flights and all the support and administrative procedures are carried out. And our status as the direct partner of the exclusive operator allows us to offer our customers the best rates for fighter flights in Russia.

WHY GO RUSSIA
Go Russia is an authorised agent for selling flights in MiG fighters. Please view our
authorisation certificate from the Sokol plant
. Please beware of any operators offering flights from Zhukovsky Airbase in Moscow on MiG-25, MiG-29, MiG-31 or Sukhoi family of fighters. These flight operations have been officially stopped in 2005.
We can provide further references from Sokol plant or our customers upon request.
GR Travel Group (company number 05381495) trading as
Go Russia
is one of the leading UK-based tour operators specialising in Russia and the other countries of the former USSR. You might have already met our staff at various major travel shows across the UK (The Daily Telegraph Adventure Travel Show, The Times Destination Show) or at one of our monthly free talks on travel to Russia at Pushkin House, the new Russian cultural centre in London. As Russian travel experts we are mentioned in several recognised travel guides, including Odyssey Publications, Rough Guides, Trailblazers, Brandt Guide, etc. and many travel magazines and newspapers. Although, only once we have even been mentioned in a BBC TV Holiday Programme and gave a live interview on Sky News!
We have a separate division, with a knowledgeable team solely dedicated to the MiG Flight tours. And being a direct partner of the exclusive operator of flight programmes at Sokol gives us a great advantage and, as a result, we can offer our customers a flexible service, fast responses and the best prices.
We are a professional travel company specialising in tours to Russia; we have been in this business for many years. We are real experts in the country, offering the complete range of travel arrangements within Russia, around the core experience of the MiG flight. This includes organising transfers and international fights, booking the best hotels and restaurants, as well as setting up any tour extensions or optional excursions on request. We will arrange your itinerary carefully and answer all your queries during the pre-booking stage, and then use all our knowledge and expertise to ensure that your trip runs smoothly.
We have access to sophisticated global reservation systems, which allow us to search and book hotels, flights and rail tickets within Russia and all over the world. In addition we have a close, direct relationship with many Russian suppliers, so that we can offer our customers the best prices, along with unique products and services (for example, private tours to Star City and much more) that are not readily available through global distribution networks.
And last but not least, we will efficiently and smoothly obtain a Russian visa for you (or issue valid visa support documents, if you apply for your visa outside the UK).

When paying for your holiday you can be sure that your money is safe. We hold Air Travel Organisers Licence (ATOL) number 6801 issued and fully bonded with the Civil Aviation Authority (CAA) so the air holidays offered on this web site are ATOL protected. ATOL is a protection scheme for air holidays and flights managed by the Civil Aviation Authority ("CAA"). All tour operators and travel firms selling air holiday packages and flights in the UK as a principal are required by law to hold a licence called an Air Travel Organiser's Licence ("ATOL"). In the unlikely event of our insolvency, the CAA will ensure that you are not stranded abroad and will arrange to refund any money you have paid us for an advance booking. Please note that ATOL bonding only applies to bookings made within the UK that include either international flights from the UK or internal flights within Russia. For further info, please visit the ATOL website at: www.atol.org.uk
When paying for your holiday you can also consider credit card insurance cover under the Consumer Credit Act or offered by your bank. This will give you extra comfort in respect of any unforeseen change in your plans or schedules from the booking/ payment date to the date of departure.
Please note that our flights take place at a Government controlled military site,
the Sokol, Aircraft Building Plant
. This is the world-renowned official manufacturer of the MiG family of fighters, delivering combat aircraft to over 30 countries. Here you can be absolutely sure that no fighter jet takes off without strict security procedures and thorough safety checks. All
our pilots
have many years of experience of flying various civil and combat aircraft, including supersonic MiG fighters. We guarantee that only professionally trained and experienced teams will be involved in preparing your flight.
We also make sure that your programme is working for you. There will be a constant intercom connection with your pilot and your flight package can easily be adjusted by your pilot depending how you feel.
We have a valid tour operator and public liability insurance of up to £2,000,000 cover. This type of insurance covers any awards of damages given to a member of the public because of an injury or damage to their property. It also covers any related legal fees, costs and expenses.
Dedicated travel consultant and personal care
From your initial enquiry onwards you will be assigned a dedicated, experienced travel consultant, who will be always available for personal consultation about your trip to Russia and your MiG flight. We are completely flexible and you can discuss all your travel requirements directly with your consultant.
There are many ways you can
contact us
: phone, email, fax or even online chat. We also welcome visits to our office in West London (parking available). We value every customer and respect all their needs, and we will do our best to make your dream holiday in Russia become the adventure of a lifetime.
24*7 UK based emergency hotline centre and local representatives
When you travel to Russia with us, you will be given the number of our 24/ 7 hotline centre, where a member of our staff will be able to assist you in any unforeseen situation: getting lost in the city, missing the train, needing help with explaining something in Russian, etc. However, it is very unlikely that you will have to contact our emergency operator, as all your arrangements are carefully planned and monitored. Our local English-speaking representatives are also available throughout your stay.
Payment methods flexibility
We offer you flexibility with your payment options. We accept payments by major credit / debit cards (please note a small 2% surcharge applies to credit card transactions only), bank transfer, cheque, bankers' draft or postal order.
As well as UK-based travellers, we welcome customers from all over the world. Please
contact us
and your dedicated travel consultant will advise you on your MiG flight and help you book any international flights or train tickets.