Fly MIG fighter in Russia. Supersonic aerobatics and edge of space flights
Who hasn't dreamt of flying up among the stars?
Who didn't long to be an astronaut when they grew up?
Here's your chance to make your dream come true now!
Please note at SkyandSpaceTravel.com we're not just selling a
MiG flight
: we're offering an experience you'll never forget. Take up your chance of a lifetime: start your Sky and Space Discovery NOW!
Fly in a MiG
in Russia from the officially authorised and military controlled
Sokol airbase
.
| | |
| --- | --- |
| | the best Russian military jets - fastest ever, and absolutely safe |
| | a dedicated expert team guiding you before, during and after your MiG flight |
| | the most experienced English speaking test pilots, each with over 4,000 flying hours |
| | flight programmes of thrilling aerobatics and supersonic speeds, fly in a MiG right to the edge of space |
| | incredible views of Earth from the edge of space – all preserved for you on your personal DVD! |
| | complete peace of mind while we deal with your personalised itinerary |
| | high quality travel and accommodation in Russia for your journey of a lifetime |
| | individual care approach for every customer – you ARE special! |
| | complete financial protection for the money you pay to us – we are a fully bonded UK tour operator |
Please note, flights by MiG are no longer performed at Zhukovsky airbase near Moscow. These operations were stopped back in 2005, no flights are possible on MIG-25 or Sukhoi fighter families in Russia. We fly MiG-29 and MiG-31 only from the government authorised military site in Nizhniy Novgorod (Sokol aircraft plant).

We advise you to use only legitimate companies when booking your fighter ride in Russia. Upon request we can provide official references for flights by MiG from Russia.



Go Russia is an authorised sale agent for MIG fighter flights in Russia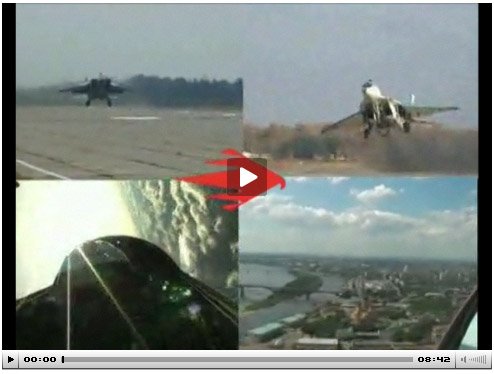 For more details please
call us
to discuss your chance of a lifetime, or
visit our office
for a detailed individual presentation on the flight programme.
Why wait till the next decade, or pay millions for an available ride slot on a private space shuttle? Start your Sky and Space journey today with the help of our expert team! Fly in a MiG and enjoy breathtaking Earth views and terrific aerobatics.
We guarantee you'll come back with fantastic memories of your once-in-a-lifetime adventure. Our modern fighters can go as high as 23 km (14 miles) and with our unique
SPACE programme
you'll enjoy breathtaking views of Earth from this altitude, up among the stars. If you're up for the thrilling adrenaline rush on this ultimate aerobatic adventure, then choose our
SKY Programme
and let our amazing
MiG-29 fighter
perform
world-famous flight manoeuvres
, including Loops, Split-S, Climbing, Diving and Tailslides. We have also developed our
TRAINER Programme
for those who just want the feel of flying a supersonic fighter, or are on a limited budget right now. We also offer jet training courses at the plant Sokol facility in Russia. Please
contact us
for more information.
Everything IS POSSIBLE here and with flexibility as our motto we'll tailor-make your programme according to your specific requests, physical condition, interests and budget .
Your Sky and Space discovery starts
here!
Book your
MiG flight
now!
Call us on +44 (0) 20 33 55 22 45.
We wish you an incredible journey of a lifetime!
Yours, Martin Curtis
Director